Our products
Paperless, direct,
transparent.
With this digital lab order from inveox, doctors and point-of-care professionals can now stay directly connected to their test samples. Submit diagnosis-relevant information and get a transparent overview of all your lab orders.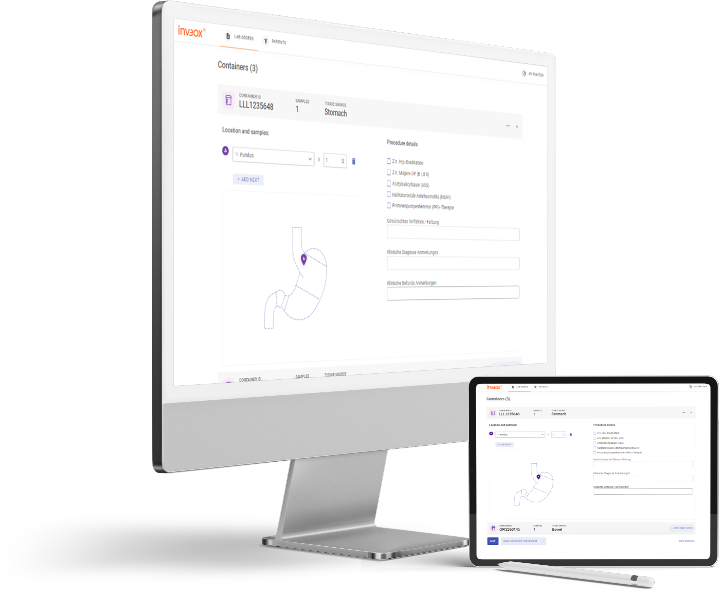 INVORDER BENEFITS
Our stand-alone lab order software suite will revolutionize how you process test samples.
Our digital lab order software simplifies the documentation and the workflow between doctors and pathology laboratories and saves valuable time. The software puts doctors and labs in direct contact and minimizes clerical errors and maximizes turnaround time. With invorder, doctors and point-of-care professionals can enter their test orders completely digitally in a few easy steps. With just a few clicks, you can transfer all existing data from your practice information system and view the current processing status of your sample online in the laboratory.
Easy lab order creation.
Your digital lab order can be created quickly and easily. You can document all diagnosis-relevant data about the patient and sample digitally in just a few simple steps. Invorder easily integrates with your practice information system (such as Medatixx or CGM) and using our coded inveox sample containers will save you even more time.
Transparent, paperless documentation.
Instantly view the status of your examination order, easily edit order details and clarify any questions from the lab. View test results quickly and securely as soon as they are available via the online platform. Direct communication between you and your laboratory means you can inform your patients and initiate appropriate treatment steps much faster, saving valuable time.
Greater reliability.
To ensure that all of your patient's data is protected with the highest amount of security, all personal details and diagnostics images are stored on an encrypted database that follows strict security guidelines in accordance with GDPR guidelines. The system also informs you if orders are created twice or if a patient's insurance card has expired.
Complete control.
The digital lab order offers you a variety of tools to optimize your test-sample workflow and react to changes flexibly. With effective role management, you can assign different rights to different users. You also have many options at the ordering level. Change, add, delete – it's up to you and at your fingertips.
Seamless Integration
The digital lab order is seamlessly connected to your practice information system via various interfaces. This means that you can transfer all the required data directly from your practice information to the digital lab order with one click, thus saving time when entering data. we are currently connecting CGM and Medatixx as well as other system on request.
NEW ADD-ONS
Diagnosis module
Diagnosis is a new module in the invorder application that allows the pathologist to send the pathological diagnosis back to the point of care in digital form.
The solution is independent from the Laboratory Information System and allows a diagnosis to be attached to the lab order in the form of a PDF file.
This solution has multiple benefits such as:
Keeping a diagnosis linked to the lab order that contains the medical description of a patient's case
The standardization of the document exchange process between medical practices and laboratories
Making diagnoses always available to the point of care
Reducing paper consumption
INTEGRATIONS
We are able to integrate with PIS systems:
Medatixx group:
X.isynet
X.Comfort
X.Concept
CGM group
Albis
Medistar
Turbomed
Indamed Medical Office
Pegamed
S3
Medys
T2Med
Duria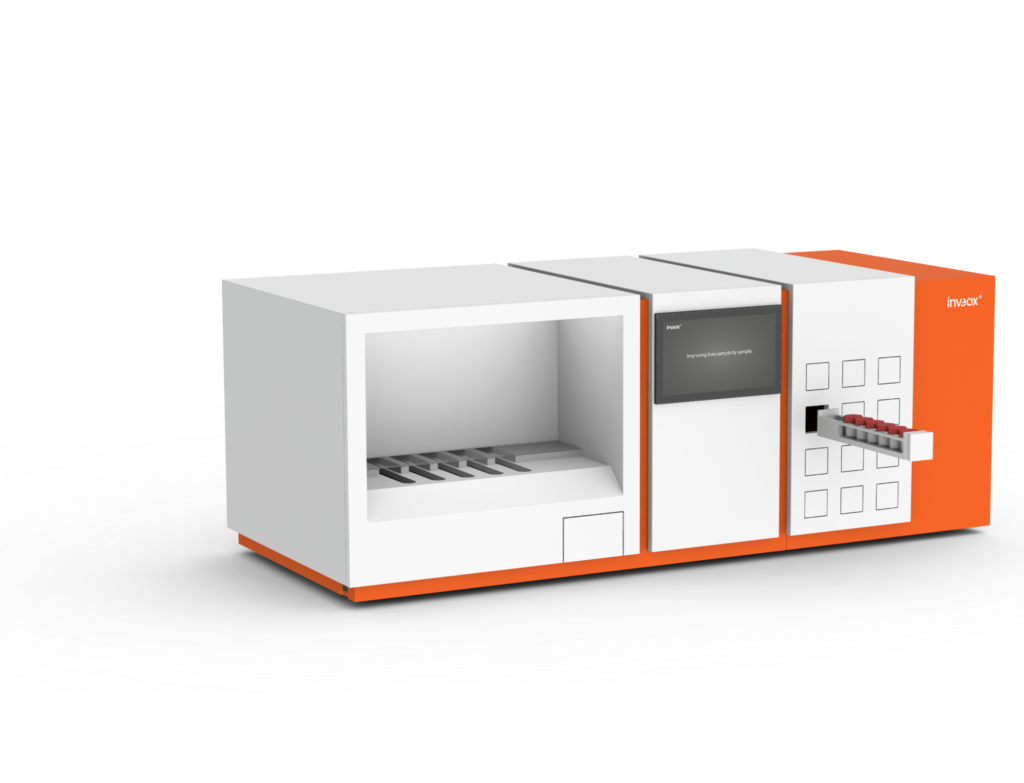 BETTER TOGETHER
Express sample pre-processing.
Samplex allows labs to quickly and easily register incoming samples. The module scans and photographs each container's matrix code and instantly sends the coded information to the lab for further processing.
Let's talk about how inveox can help transform your diagnostics business.